| Department of Nutrition
Bachelor's and Master's Programs
UIW at a Glance
#1
Largest Catholic university in Texas
154
Acre campus near downtown San Antonio
90+
Majors and undergraduate programs
Accelerate Your Career in Nutrition
The Department of Nutrition offers a Bachelor of Science (B.S.) degree in Nutrition, a minor in Nutrition, and a Master of Science (M.S.) degree in Nutrition. Through small class sizes and qualified diverse faculty, the UIW Nutrition Program strives to provide responsive, individualized attention to develop students in a multicultural socially cohesive environment in order to create a better future through food and nutrition. The undergraduate UIW Nutrition Program integrates the study of biology, chemistry, behavioral sciences, and business into the practice of nutrition and dietetics.
Bachelor of Science in Nutrition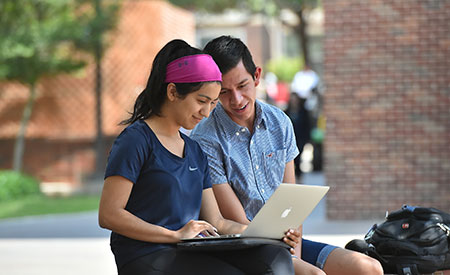 Students completing the B.S. in Nutrition choose one of three tracks:
Food and Nutrition Track: The undergraduate Food and Nutrition track prepares students for entry-level food and nutrition careers. We are committed to providing an educational environment that promotes collaboration, teamwork, and development of leadership rooted in values of social justice.
Nutrition and Dietetics Track: The Didactic Program in Dietetics (DPD) prepares students for successful entry into supervised practice in dietetic internships leading to eligibility for the CDR credentialing exam to become a registered dietitian nutritionist. The UIW DPD is accredited by the Accreditation Council for Education in Nutrition and Dietetics (ACEND). Students must apply and be admitted to the UIW DPD.
Nutrition Science Track: The undergraduate Nutrition Science track prepares students for successful entry into graduate programs and professional programs such as medicine, physical therapy, dentistry, pharmacy, and optometry.
Master of Science in Nutrition
The Graduate Nutrition Program engages students in learning, research and discovery, and service to meet the needs of individuals and communities at the local, state, nation, and world level. Students address human needs by promoting nutrition for health and wellness across the life-span of individuals, families and communities while embracing evidence and ethical-values-based decision-making.
UIW Dietetic Internship
The UIW Dietetic Internship is a full-time 8-month program accredited by ACEND. The program has a concentration in Diversity in Nutrition Care. Dietetic interns complete a minimum of 1200 supervised practice hours in hospitals, outpatient clinics, home and hospice care and more.
Career Outlook and Opportunities
The U.S. Bureau of Labor Statistics expects the employment of registered dietitians to increase by 11 percent from 2018 to 2028.
The U.S. Bureau of Labor Statistics expects the employment of registered dietitians to increase by 11 percent from 2018 to 2028. This is due to an increase of individuals with preventable diseases and conditions such as type 2 diabetes, hypertension, and cardiovascular disease.
To become qualified for a career in dietetics, a student must complete a minimum of a bachelor's degree at a U.S. regionally accredited university or college and course work accredited by ACEND. The UIW DPD provides the didactic coursework required by ACEND. Following graduation from UIW, students must complete an ACEND-accredited supervised practice program and then pass a national examination.
Of special note is that as of January 1, 2024, individuals must have a Master's degree to sit for the national examination for dietitians. UIW offers graduate degrees and a dietetic internship.
RDNs work in a variety of settings, such as hospitals, school districts, research labs, private practice, education, government agencies, food companies, community/public health, and business and industry.
Certified Diabetes Educator
Clinical Dietitian
Clinical Nutrition Manager
Community Health Worker
Corporate Wellness Dietitian
Food Bank Nutrition Educator
Food Service/Restaurant Manager
Nutrition Consultant
Nutrition Writer
Nutrition Researcher
Pediatric Dietitian
Renal Dietitian
School District Nutrition Director
SNAP-Ed Coordinator
Sports Dietitian
WIC Nutritionist
Learn More Today
We would love to hear more about you to better help you reach your educational goals. Contact an Admissions Counselor if you would like to learn more about the program or if you have questions.
Financial Aid
94%
of undergrad students receive grants/scholarship aid
$21,600
average aid amount awarded to first-time freshmen students
50%
of first-time UIW students are eligible for Pell Grants

I will work to see each student graduate with the lowest possible debt, and secure a career that lifts their lives, the lives of their families, and the communities they serve.

Dr. Thomas M. Evans
President, University of the Incarnate Word