| Bachelor of Science in Data Science
Unlock huge career potential as a Data Scientist
UIW at a Glance
#1
Largest Catholic university in Texas
154
Acre campus near downtown San Antonio
70+
Countries represented by UIW students
Accelerate Your Career in Data Science
The UIW School of Mathematics, Science and Engineering is right for you if you enjoy math; work well in teams; persist in the face of tough problems; and bring curiosity to everyday phenomena.
Bachelor of Science in Data Science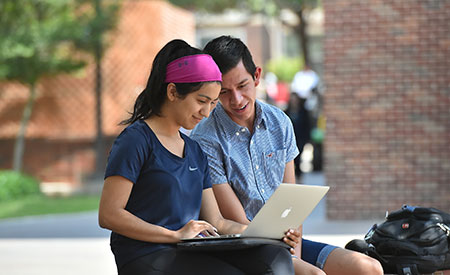 The Bachelor of Science in Data Science degree is designed to prepare future professionals who want to obtain training in modern principles and techniques of data-driven discovery. Students will be able to build a strong foundation in the fields of study that make them sound statisticians, information analysts, and highly coveted in the job market.
UIW Data Science students will: 
Gain skills in mathematics, computer information systems and statistics
Manage and analyze data sets to derive science and business insights from big data
Become familiar with Python and R programming languages 
Display their best work and projects on GitHub
Grow their skills by participating in Kaggle competitions
Learn in small class sizes with 1-on-1 faculty support
Complete a full-time, 120-hour degree program integrating higher math, computer info systems, stats, machine learning, and computer programming
Tailor their education with electives in data mining, predictive analytics, business intelligence, and more
Career Outlook and Opportunities
For many businesses, data is the key to their future, and they need professionals equipped with the necessary skills such as collecting, refining, and visualizing data, analyzing raw data, interpreting data, and making a strong conclusion. These industries depend on Data Scientists to help identify the trends, risks, and opportunities that inform their growth.
With their keen understanding of raw information and expertise in applying it to an array of scenarios, there is hardly an industry that would not benefit from employing data scientists. In fact, "data scientist" was named the best jobs in America by Glassdoor, a popular job search site.
In the US, the average base salary for the data scientists ranges from $113,000 to $122,000 per year according to the salary insight reports of Glassdoor and Indeed. This range depends upon the location, level, and position of the work. This evolving field of data science also has the highest job satisfaction.
Data science graduates may find employment in the corporate office of retail and brand giants, technology firms, digital agencies, healthcare companies, higher education institutions, finance and banking, and other industries.
Examples of careers in technology companies, business, sports and medical fields:
Advanced study at the graduate level in data science, mathematics, and statistics
Application Development
Application Engineer
Data Integration Specialist
Data Governance
Data Engineer
Data Developer
Business Intelligence Analyst
Data Scientist
Statistician
Digital Business Professional
Get Started Now
We would love to hear more about you to better help you reach your educational goals. Contact us if you would like to learn more about the program or if you have questions.
Featured Faculty
Dr. Kiran Mainali, Assistant Professor

Dr. Kiran Mainali was born and raised in Nepal. He received his undergraduate and master's degree in applied Mathematics from Tribhuvan University, Nepal. He came to the United States to continue his graduate studies at the University of Texas at Arlington (UTA) in 2016. Dr. Mainali had a research intern experience at the Lawrence Berkeley National Laboratory in 2018, Berkeley, California. He earned his Ph.D. in Computational Mathematics in 2020 from the Department of mathematics, UTA. Dr. Mainali joined the University of Incarnate Word as an Assistant Professor in 2020.
Dr. Mainali's research interest is Machine Learning (ML) techniques in Data Science, Mathematical Optimization, and Computational Neuroscience. Dr. Mainali had extensive experience in building the ML algorithms to analyze the Electroencephalogram (EEG) time series data for localizing the brain source disorder. He also worked on projects about applying convex and non-convex optimization techniques to model and analyze the data using supervised and unsupervised ML models are his areas of interest.
He enjoys spending time with family, reading books, playing lawn-tennis, running, listening to music, and dancing.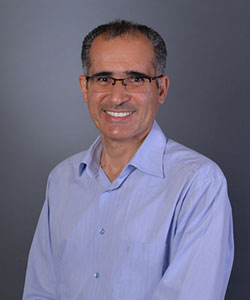 Dr. Suleyman Tek, Associate Professor, Department Chair

Dr. Tek joined the University of the Incarnate Word in August 2009 and currently serves as Professor of Mathematics, Chair of the Department of Mathematics and Statistics and Co-Advisor of the UIW Math Club. Dr. Tek's personal interests are playing oud, guitar and cello, spending time with family, reading, playing tennis and intercultural gatherings.
Dr. Tek's research area is Applied Mathematics, more specifically, differential geometry of integrable partial differential equations, Soliton surfaces, the geometry of biomembranes, mathematical modeling of biological systems, and optimization in petroleum engineering.
He received his bachelor's with cum laude in Mathematics from the Department of Mathematics, Dokuz Eylul University, Izmir, Turkey. He received his M.S. and Ph.D. degree in Mathematics from the Department of Mathematics, Bilkent University, Ankara, Turkey

I will work to see each student graduate with the lowest possible debt, and secure a career that lifts their lives, the lives of their families, and the communities they serve.

Dr. Thomas M. Evans
President, University of the Incarnate Word