| Community Health Education
Improving the health of individuals and communities
UIW at a Glance
#1
Largest Catholic university in Texas
154
Acre campus near downtown San Antonio
90+
Majors and undergraduate programs
Jumpstart Your Career
Bachelor of Science in Community Health Education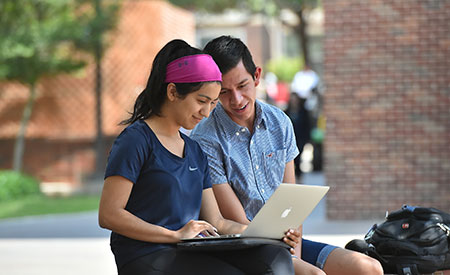 Are you passionate about improving an individual or a community's overall quality of life through the promotion of wellness? The Community Health Education program emphasizes improving the health of individuals and communities based on their needs. Students will design, implement and evaluate community health programs, which includes promoting health, preventing disease, and advancing health equity. Students will learn the domains of competency within public and community health education such as behavioral health, health policy, research, epidemiology, chronic diseases and infections diseases.
Certified Health Education Specialist (CHES)
The program is also aligned with the educational requirements for the Certified Health Education Specialist (CHES) examination, offered through the National Commission for Health Education Credentialing. The program is under accreditation review through the Council on Education for Public Health (CEPH).
The community health-specific curriculum provides the basic preparation, which qualifies students to take the CHES exam as it includes the seven Health Education Areas of Responsibility embedded within the curriculum. Students also must complete a 10- credit hour of internship/practicum. This helps assist students in connecting the didactic with an experiential learning environment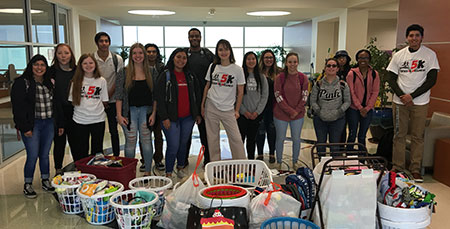 Practical Knowledge and Real-World Experiences
The program continues to expose students and faculty alike by emphasizing a strong community base, cultural competence, global perspectives, and evidence-based practices within a community/public health approach. Students within the Community Health Education program apply the knowledge they have learned through the internship, submission for oral or poster presentation at various public/community health conferences and UIW research week. Students also have the opportunity to travel to various medical mission trips offered through the Ettling Center for Civic Leadership and Sustainability.
Career Outlook and Opportunities
The U.S. Bureau of Labor Statistics expects the employment of community health educators and workers to increase by 11 percent from 2018 to 2028.
Community health educators and community health workers is projected to grow 11 percent from 2018 to 2028, much faster than the average for all occupations. Growth will be driven by efforts to improve health outcomes and to reduce healthcare costs by teaching people healthy behaviors and explaining how to use available healthcare services.
Source: https://www.bls.gov/OOH/community-and-social-service/health-educators.htm#tab-1
This is an outline of the duties of a community health education specialist, which will vary with work settings.
In health care facilities, sometimes called patient navigators because they help consumers find out about their health insurance options and direct people to outside resources, such as support groups and home health agencies. Health educators in health care facilities also help organize health screenings, such as blood pressure checks and health classes on topics such as installing a car seat correctly. They also create programs to train medical staff to interact better with patients. For example, they may teach doctors how to explain complicated procedures to patients in simple language.
In colleges, health educators create programs and materials on topics that affect young adults, such as smoking and alcohol use. They may train students to be peer educators and supervise the students' delivery of health information in person or through social media. Health educators also advocate for campus-wide policies to promote health.
In public health departments, health educators administer public health campaigns on topics such as emergency preparedness, immunizations, proper nutrition or stress management. They develop materials to be used by other public health officials. During emergencies, they may provide safety information to the public and the media. Some health educators work with other professionals to create public policies that support healthy behaviors and environments. They may also oversee grants and grant-funded programs to improve the health of the public. Some participate in statewide and local committees dealing with topics such as aging.
In non-profits (including community health organizations), health educators create programs and materials about health issues for the community their organization serves. They help organizations obtain funding and other resources. Many non-profits focus on a particular disease or audience, so health educators in these organizations limit programs to that specific topic or audience. For example, a health educator may design a program to teach people with diabetes how to better manage their condition or a plan for teen mothers on how to care for their newborns. In addition, health educators may educate policymakers about ways to improve public health and work on securing grant funding for programs to promote health and disease awareness.
For-profit, health educators identify common health problems among employees and create programs to improve health. They work with management to develop incentives for employees to adopt healthy behaviors, such as losing weight or controlling cholesterol. Health educators recommend changes to the workplace, such as creating smoke-free areas, to improve employee health.
***Health educators who teach health classes in middle and high schools are considered teachers. For more information, see the profiles on middle and high school teachers through the Dreeben School of Education***.
Learn More Today
We would love to hear more about you to better help you reach your educational goals. Contact an Admissions Counselor if you would like to learn more about the program or if you have questions.
Financial Aid
94%
of undergrad students receive grants/scholarship aid
$21,600
average aid amount awarded to first-time freshmen students
50%
of first-time UIW students are eligible for Pell Grants

I will work to see each student graduate with the lowest possible debt, and secure a career that lifts their lives, the lives of their families, and the communities they serve.

Dr. Thomas M. Evans
President, University of the Incarnate Word