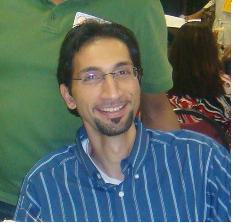 Bio
Dr. Noah Kasraie joined UIW in 2008. He comes from a business background with managerial and leadership experience in various organizations. Dr. Kasraie was born in Philadelphia, PA, and has lived in different countries and speaks multiple languages. He often travels around the world to present in conferences and conduct workshops. He has given keynote presentations in various international conferences and serves as a reviewer for many international journals. He is also the Chief Editor of the International Journal of Innovative Learning and Leadership.
Awards and Accomplishments
Dr. Kasraie was awarded the Provost Legacy Teaching Award at the University of the Incarnate Word. He was nominated 7 times for the Presidential Teaching Award. He was also awarded the Smith Award of Research in 2007.   
Research Interests
Online education and eLearning, leadership studies, organizational change and innovation.
Personal Interests
Coaching and playing soccer, traveling, cooking, and gardening.
Quote
"Life consists of two days, one for you one against you. So when it's for you don't be proud or reckless, and when it's against you be patient, for both days are test for you." 
- Ali son of Abu Talib 
Courses Taught
Organizational Theory and Culture
Concepts of Leadership
Organizational Change
Leadership & Technology
Social Science Statistics
Research Methods & Tools
Introduction to Quantitative Research
Blended Learning
Issues & Trends in Technology
Multicultural Issues in Education

Writing for Publications
Contact Information
Dr. Noah Kasraie
Associate Professor
210-829-3133
kasraie@uiwtx.edu
Education
Ph.D., Educational Leadership
Specialization: Higher Education
Arkansas State University
Jonesboro, Arkansas
Ed.S., College Teaching and Administration
Arkansas State University
Jonesboro, Arkansas
M.B.A., Decision Sciences and Quantitative Analysis 
Arkansas State University
Jonesboro, Arkansas
M.S., Information Technology and eCommerce
Arkansas State University
Jonesboro, Arkansas