Bio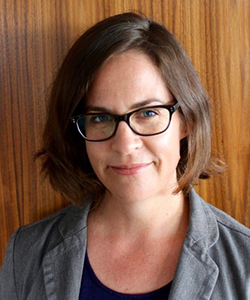 Jeanne Sinclair's work centers around language and literacy assessment and instruction, with a focus on equity for students from diverse linguistic and cultural backgrounds. 
She began her teaching career in Central Texas in 2009, earning an M.A. in Bicultural-Bilingual Studies at the University of Texas at San Antonio in 2014. Motivated by a desire to understand and improve assessment practices, she earned a Ph.D. in Language and Literacies Education at the Ontario Institute for Studies in Education of the University of Toronto, with a focus on assessment validity.
She is thrilled to join UIW's Teacher Education program and looks forward to collaborating with students, faculty and area schools on the essential and exciting work of preparing teachers to make a difference in their students' lives.
Recent Publications
Sinclair, J., Larson, E. J., & Rajendram, S. (2019). "Be a machine": International graduate students' narratives around high-stakes English proficiency tests. Language Assessment Quarterly, 16(2), 236-252.
Sinclair, J., Jang, E. E., & Vincett, M. (2019). Investigating linguistically diverse adolescents' literacy trajectories using latent transition modeling. Reading Research Quarterly, 54(1), 81-107.
Sinclair, J. & Lau, C. (2018). Initial assessment for K-12 English language support in six countries: Revisiting the validity-reliability paradox. Language & Education, 32(3), 257-285. 
Research Interests
Language and literacy assessment for linguistically and culturally diverse students
The relationship between oral language development and literacy
Validity issues in language and literacy testing
Educational research methodologies
Courses Taught
Foundations of Education
Developing the Strategic Reader
Differentiating Literacy Instruction
Instruction and Assessment
Education
Ph.D., Language and Literacies Education
Specialization in Language and Literacy Assessment
Department of Curriculum, Teaching, and Learning
Ontario Institute for Studies in Education of the University of Toronto
Toronto, Ontario, Canada
M.A., Bicultural-Bilingual Studies
Concentration in Bilingual Teacher Education
Department of Bicultural-Bilingual Studies
University of Texas at San Antonio
San Antonio, Texas
B.A., Individualized Studies
Gallatin School of Individualized Studies
New York University 
New York, New York
Certifications
Texas State Board for Educator Certification 
Classroom Teacher, EC-8 (Generalist, Bilingual Generalist-Spanish, and English as a Second Language)
Teaching English as a Second Language (TESL) Ontario
English as a Second Language Theory Instructor
Contact Information
Jeanne Sinclair
Assistant Professor
210-283-6411
jhsincla@uiwtx.edu
Personal Interests
I enjoy spending time with my family, enjoying the beautiful city of San Antonio and playing the guitar.
Quote
"…We have not only to make assessment more informative, more insightfully tied to learning steps, but at the same time we must change the social meaning of evaluation…. so that students and teachers look to assessment as a source of insight and help instead of an occasion for meting out rewards and punishments." -Lorrie A. Shepard