Dr. Sandra L. Guzman Foster
Bio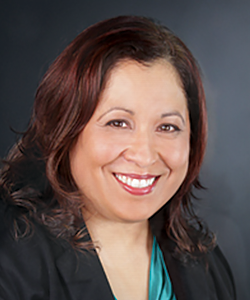 Dr. Sandra L. Guzman Foster earned her Ph.D. in Educational Leadership and Policy Studies at Arizona State University where she was also a Gates Millennium Scholar and a Spencer Interdisciplinary Fellow. Prior to joining UIW, Dr. Guzman Foster worked as an education consultant where she worked on several projects such as leading research and evaluation teams in fieldwork, developing course curriculum for online programs, and serving as a research subject matter expert. Dr. Guzman Foster brings experience in online and hybrid pedagogy, curriculum development, teacher education, program evaluation, educational research, and social justice education. Additionally, Dr. Guzman Foster has taught at the K-12 level, community college level, and at the university level in Texas, Arizona, and Colorado.
Awards and Accomplishments
Dr. Guzman Foster is the 2021-2022 Moody Professor. She held the Sister Theophane Power Endowed Chair in Education from 2017-2020. She has been nominated for the Minnie Stevens Piper Award and the Presidential Teaching Award.
Research Interests
Educational Policy, Critical Pedagogy, Social Justice, Historical, Political and Social Contexts of Education, Critical Multicultural Education, Reflective Practice, Transformative Dialogue, Urban Education, Educational Philosophy, Youth Empowerment, and Technology Integration in Education.
Personal Interests
Family, Dachshunds, Friends, Hiking, Reading and Movies
Quote
"A teacher is of course an artist, but being an artist does not mean that he or she can make the profile, can shape the students. What the educator does in teaching is to make it possible for the students to become themselves."
- Paulo Freire
Courses Taught
Advanced Qualitative Design and Analysis
Capstone in Education
Contemporary Issues in Adult Education: Popular Education for Social Change
Critical Theory in Education
Culturally Responsive Teaching
History and Philosophy of Higher Education
Introduction to Educational Research
Introduction to Inquiry
Multicultural Concepts in Education
Philosophical Foundations in Education
Research Tools and Methods
The Compassionate Researcher
Theories of Learning
Qualitative Research Methods/Analysis
Education
Ph.D., Educational Leadership and Policy Studies
Arizona State University
Tempe, Arizona
M.A., Developmental and Adult Education
Texas State University
San Marcos, Texas
B.A., Psychology
St. Mary's University
San Antonio, Texas