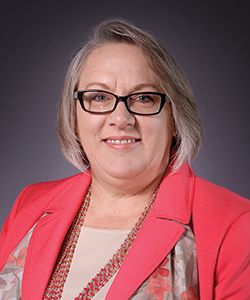 Bio
Dr. Joan Labay-Marquez is the Graduate Studies Coordinator at the Dreeben School of Education and joined the UIW family in 2014. She teaches Law in Higher Education, Legal Issues in Student Affairs, Law and Ethics in Cyber Security, Risk Management and Policy in Cybersecurity and Texas School Law. She earned her Juris Doctor degree from St. Mary's University School of Law and a Master of Jurisprudence in Education with a certificate in Cyber Law and Data Security. She is also an alumnus of Incarnate Word High School.
She serves as the advisor for the UIW Compassion Student Peer Organization (CSPO) and liaison to the ESC Region 20 Cohort Leadership Associates (CoLA) program. She is a member of the National Association of Student Personnel Administrators (NASPA) and serves on the Review Board for the NASPA Journal of Women and Gender in Higher Education. Dr. Labay-Marquez is a member of Women in Cyber Security (WiCyS) and participates in the mentor/mentee program. She leads a talented team of faculty, students and community leaders that mentor young women from local area high schools, Kosovo, Kenya and Uganda through the Young Women's Global Leadership Program.
Dr. Labay-Marquez volunteers as the Education K-12 STEM Outreach Chair at the American Institute of Aeronautics and Astronautics (AIAA) and supports the AIAA Educator Associates in the Southwest Texas Region. She is married to Felix Marquez and they are blessed to have four beautiful children. She enjoys spending time with her family and doing all things NASA.
Contact Information
Dr. Joan Labay-Marquez
Graduate Studies Department Coordinator
(210) 283-6429
labaymar@uiwtx.edu