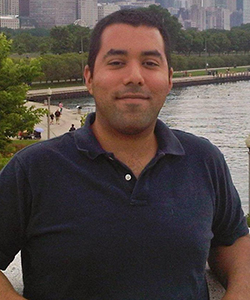 Dr. Horacio Vela is an Assistant Professor of Religious Studies at the University of the Incarnate Word. Born and raised in Laredo, Texas, he received a BA from the University of Texas at Austin and a master's degree from Yale Divinity School. He holds a PhD from the University of Notre Dame.
His research and teaching interests include Latinx religions, Indigenous religions, popular religious traditions, and sacred narratives. He is particularly interested in Tejano/a and Mexican-American history and religion, the Virgin of Guadalupe tradition, and Native American religious traditions in Texas and the US southwest.
He also works in the fields of ancient Jewish and early Christian literature, biblical interpretation, and ethnic discourse. He has published and presented on Philo of Alexandria, the apostle Paul, and early Christian theology.
Dr. Vela currently serves as a member at large of the Board of Directors of the Academy of Catholic Hispanic Theologians of the United States (ACHTUS).
Ph.D. University of Notre Dame
M.A.R. Yale Divinity School
B.A. University of Texas at Austin
Review of Gregory Cuéllar's Resacralizing the Other at the US-Mexico Border: A Borderland Hermeneutic, Society of Biblical Literature, December 2020
"Latinx Contributions to the Study of Scripture," presentation at international colloquium on the 20th Anniversary of Ecclesia in America, Pontifical Catholic University of Rio de Janeiro, September 2019
"Rereading Paul at the Border," Academy of Catholic Hispanic Theologians of the United States Colloquium, 2019
"Scripture and Activism," Society of Biblical Literature, Denver, November 2018
"Remembering the Alamo and the Missions," SBL/AAR, San Antonio, TX, November 2016
Academy of Catholic Hispanic Theologians of the United States
Hispanic Theological Initiative En Conjunto Association
La Comunidad of Hispanic Scholars of Religion
Society of Biblical Literature
North American Patristics Society
Catholic Biblical Association;
Latinx Catholicism
Latinx Religions and Theologies
Mexican-American and Tejano religion and history
Indigenous Religions
Race, Ethnicity, and Religion
Early Christianity
Ancient Judaism
Biblical Literature
Origins of Christianity
Our Lady of Guadalupe
Gospels and Acts
US Latino/a Theology and Culture
Paul and Pauline Literature