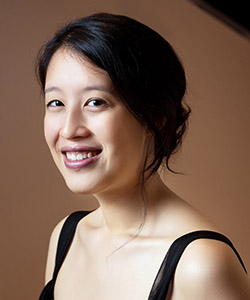 Jean Park is a pianist, teacher, and collaborator. Jean competed in the Schubert Club's Scholarship Competition while it was a national competition and won first place in the graduate division in 2013. Jean has also been the recipient of many scholarship awards to music festivals. Jean Park completed the Doctorate of Musical Arts degree at Stony Brook University in piano performance, where she studied with Gilbert Kalish. She has a Master's in Music degree from Manhattan School of Music where she studied with Daniel Epstein and Andre Michel Schub. Jean also completed double bachelor degrees from the University of Washington in business and in music, where she studied with Regina Yeh. Jean is active as an adjudicator and serves on the board of the San Antonio Music Teacher's Association. Jean Park previously served as a graduate teaching assistant at Stony Brook. She is currently piano faculty at the University of the Incarnate Word.
Doctor of Musical Arts in Piano Performance, 2018
Stony Brook University – Stony Brook, NY
Master of Music in Piano Performance, 2011
Manhattan School of Music – New York, NY
Bachelor of Arts in Music, 2008
Bachelor of Arts in Business Administration, 2008
University of Washington – Seattle, WA
Instructor of Piano at University of the Incarnate Word, January 2019 - present
Instructor of Piano at San Antonio College, August 2018 - present
Private piano teaching, June 2003 - present
Piano Teaching Assistant at Stony Brook University, January 2015 - January 2016
After-School Music Instructor at Public School 196, November 2011 - June 2013
NCI Virtual Celebration & Cabinet Reception - Music presentation by Ariosa Trio
Zoom
November 12, 2020 6:00 PM
SCI Region VI Spring 2020 Conference - Concert 1
Parker Chapel, Trinity University
February 6, 2020 7:00 PM
SAC Holiday Concert
McAllister Auditorium
December 4, 2019 7:30 PM
​
NACUSA Concert
UIW Seddon Hall
September 27, 2019 7:30 PM
SA Masterworks Trio
UIW Seddon Hall
October 6, 2019 7:30 PM
SA Masterworks Trio
McAllister Auditorium
October 10, 2019 7:30 PM
360° view: women in music
Radius Center
June 21, 2019 7:30 PM
Solo Faculty Concert
McAllister Auditorium
February 20, 2019 7:30 PM
Board Member and Corresponding Secretary of San Antonio Music Teacher's Association
August 2020-presen
San Antonio Music Teachers Association, Texas Music Teachers Association, Music Teachers National Association
Stony Brook University
Graduate Student Employee Union Professional Development Award (2015)
Teaching Assistantship (2015)
Scholarship (2014)
University of Washington
Undergraduate Scholar Award (2004)
Evert Mccabe Fellowship Award (2004)
Full Scholarship + Stipend Festivals
"Playing for the Gold 2015" international chamber festival in Stavanger, Norway (2015)
Marrowstone Summer Music Festival Piano Fellowship (2009)
Full Scholarship Award Festivals
Aurora Chamber Music and Masterclasses in Trollhättan, Sweden (2015)
Rebecca Penneys Piano Festival (2014, 2015)
National Music Festival (2015)
Round Top Festival Institute (2013)
Hot Springs Music Festival (2012)
Partial Scholarship Awards to Festivals
Texas State International Piano Festival (2018)
Icicle Creek Winter Piano Festival (2018)
International Keyboard Institute & Festival (2011, 2012, 2013)
CCM Prague International Piano Institute (2010)
Sewanee Music Festival (2009)
Additional Scholarship Awards
National Association of Asian Professionals and Collaborative Artists East West Scholarship + Performance at NAAP Gala (2008)
Competitions
Schubert Club Competition 2013 – 1st Prize Winner (Graduate Piano)
Schubert Club Competition 2009 – 2nd Prize Winner (College Piano)
Bauru Atlanta Competition 2009 – 2nd Prize Winner
Adjunct Faculty Certification Program by Alamo Colleges: Required to have nomination by department chair and comes with award stipend of $1500. Program completed 5/19.
Phase 1: 16 hours of professional development & reflection paper- completed 11/18.
Phase 2: 16 hours of professional development & presentation- completed 1/19
Phase 3: 16 hours of professional development & facilitation of a professional development session- completed 5/19
Board Member and Corresponding Secretary of San Antonio Music Teacher's Association
August 2020-present
Assistant Coordinator of Rebecca Penneys Piano Festival
July – August 2015
Co-Chair of the Piano Teachers Congress Honors Program
November 2013 – June 2015
Board Member of Piano Teachers Congress of New York
November 2013 – May 2017
Treasurer of University of Washington MTNA Collegiate Chapter
September 2007 – June 2008
Keyboard Skills I
Keyboard Skills II
Class Piano I
Piano Proficiency Review
Private piano instruction