Ben Keathley, councilman from Chesterfield, MO (fast-growing St. Louis suburb)and attorney-at-law in Missouri and Illinois spoke about the role of local government in our constitutional tradition based on some of his experiences as a young representative on Tues., Sept. 18, 2018, at 6 pm, Library Auditorium.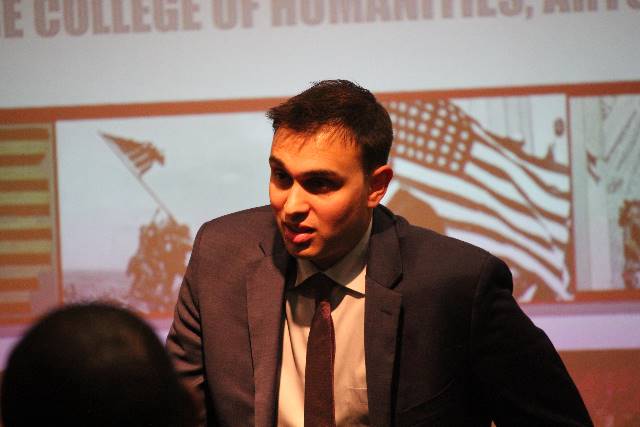 Ben Keathley at UIW Library Auditorium
---
The College of Humanities, Arts, and Social Sciences Distinguished Speakers Series presented Anthony Graves, an exonerated Texas Death Row prisoner and author of Infinite Hope: How Wrongful Conviction, Solitary Confinement, and 12 Years on Death Row Failed to Kill My Soul, on Wednesday, September 12 at 7 p.m. in the UIW Concert Hall.
(left to Right) Dr. Roger Barnes, Chair of Sociology and Criminal Justice, Anthony Graves, Dr. Emily Clark, Chair of English Department, Dr. Kevin Vichcales, Dean of CHASS. 
---
Producer, director, and actor of the stage and screen Jesse Borrego was presented with the prestigious San Antonio Film Festival 2018 Legacy Award on August 4, 2018, at the Tobin Center for the Performing Arts.

Roberto C. Treviño, SA City Councilman; Sister Martha Ann Kirk; Tonatzin Borrego, graduate of UIW and daughter of Jesse Borrego; Krystal Jones, Film Commissioner for the San Antonio Department of Arts and Culture; Jesse Borrego; Adam Rocha, the founder of the SA Film Festival. (see related article by Angel Cove of edible SAN ANTONIO)
---
Sr. Martha Ann Kirk presents at the World Council of Curriculum and Instruction in Italy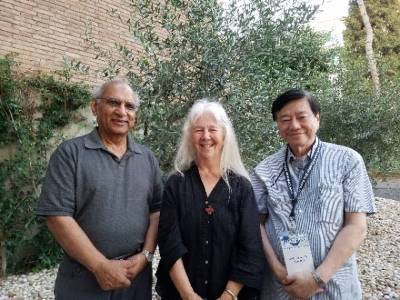 Dr. Piyush Swami, Sr. Martha Ann Kirk, Dr. Toh Swee-Hin before an olive tree, symbol of peace.
Dr. Piyush Swami, East West Educational Institute, India, and Sr. Martha Ann Kirk, University of the Incarnate Word, responded to the presentation of Dr. Toh Swee-Hin, who is a UNESCO Prize for Peace Education Laureate, called "The Flowering of Global Citizenship Education: Empowering and Transforming Our Common Humanity Toward a Culture of Peace" for the opening keynote of the World Council of Curriculum and Instruction Conference, http://wcci-international.org/events/wcci-18th-world-conference-on-education/ Rome, Italy, July 15, 2018. Sr. Martha Ann also presented "Roots Serving the City, Branches Serving the World: Incarnate Word Sisters Founded in 1869 in Response to the Mayor's Pleas, University of the Incarnate Word Students and Faculty Reaching Out in Service Locally and Globally"